Camping is fun, and camping with kids can be even more fun, but certain precautions need to be made for these little campers. Take plenty of extra clothes for them, because they will get dirty and wet. It's important they don't stay in wet clothes, because it's possible, it could result in hypothermia. This goes for adults, too.
Pay close attention to where your kids are when camping. Kids love to explore in the woods and they can very easily get lost. Something bad can occur in a split second, so it is necessary to watch children constantly.
Pack a few shovels if there are children with you on your trip. Kids love nothing better than digging in the dirt, and having the right accessories is crucial. If you have room, bring a bucket too. The children will happily entertain themselves in the dirt while you unpack, set up camp and do everything that you need to do.
If you have little ones camping with you, pack a few art supplies. When you get to your site, show them how to do leaf rubbings. There are always a variety of leaves in all shapes and sizes, so trying them all out will take a while. The kids will be happy and you will have some peace and quiet while you relax and watch them.
If you are going camping with your pets or children, you need to take a few extra precautions. Try to teach your kids the basics of camping safety. They need to know what to do if they get lost and should each have a small survival kit. Make sure you have leashes for any pets and make sure they are current with all vaccinations.
Kids might enjoy a camping activity called the "jungle breakfast." Tie fruit, juice boxes, and small boxes of cereal to trees. The kids can go on a treasure hunt for their breakfast when they wake up. The kids will love it.
If you're camping with your family, try finding campsites that are pet-friendly. This is a great way for you to get your animals out in the fresh air. Your kids will be happy to have your animals there with you, so it can be a great experience for all of you.
While kids love camping, they need to have activities planned for them. If you're settled among the trees, they may become bored. They may not be used to thing like fishing and pitching a tent. Teach them about these activities prior to leaving.
Plan several activities to do while camping. Fishing poles, decks of cards and games will be fun campsite entertainment. This is especially important if children are going to be camping.
Now that you've reached the end of this article, you surely realize that you, too, can go on the camping trip of your dreams. Heed the advice you've just been given, and head out for the great outdoors. When you follow the tips you've just read, you can't help but be a happy camper.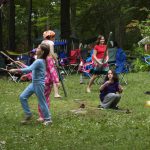 Photo by Tim Pierce